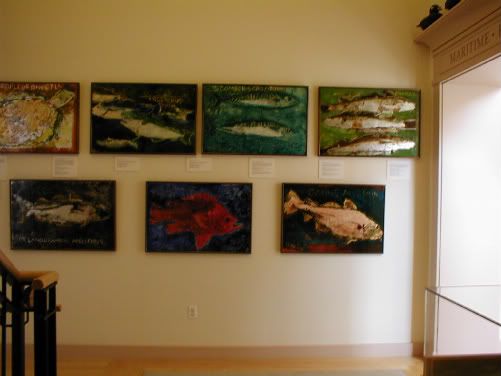 copyright 1995debbie clarkegloucester ma
This is the view from the second floor elevator. to the right is the entry to the Maritime Exhibits. to the left is the stairway to the 3rd floor with the special exhibitions, the contemporary collection. To the left is an overview into the Graham Gund designed atrium, with Walker Hancock, George Demetrios and Charles Manship. The Walker Hancock basketball players are on the ground level. The model would become an Essex cop and my youngest sister's paramour for a few years. My drawing teacher Andy McMillan studied with Demetrios and his wife Virginia Lee Burton. Manship designed the gold statue at Rockefeller Center. The Folly Cove Designers are displayed in the Auditorium. My grandmother made me a shirtwaist circle dress from those fabrics. I wore the dress in the forth and fifth grade. A Max Kuehne silver gilded desk is in an alcove at the top of the stairs. and The next big painting is of five little girls dancing in a field. American Impressionst 1908. In 2003 I sat with one of these girls, Mrs. R, when Mrs. R. was 98 years old. I was her companion for a few hot summer weeks. We sat on her porch and watched the sea. she said to me "Ah, there she is Beauty! and that is Maize"
(I think i am the first woman artist entered into the fairly new contemporary collection. Sharon Worley was the curator that asked me if I would provide visuals for a rather dry show about scientific side of the industry. Nubar Alexanian's b&w photos provided other visuals. The museum could not secure the use of photos of the individual species. They asked for illustrations: I gave them these fish.
oh, and downstairs in the Captain's house is that 'other painter of light' Fitz Henry Lane. This beautiful little museum holds the largest collection of Lane's paintings. I can see the 'Stone Jug' from here. my mother lived over there before Urban Renewal took all of Pugh Court and left the artist's studio standing.
This is the second referral from the museum in 3 months. Very interesting. I must go to the museum soon and take a look at my work.
(secretly i call this series 'bait' with gladness and humor. I have been commissioned by a private collector to do 'fish' painting. They have admired this work at the museum for years and have decided they would like to own one.)